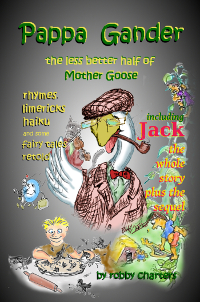 Pappa Gander: the less better half of Mother Goose
by Robby Charters
© 2012 by the author
ISBN: 978-1481892100
At long last, Pappa Gander gets a few words in edgewise. Read some of your old familiar nursery rhymes rewritten his way, plus a few other rhymes, limericks, some haiku, and stories...
Jack and the Beanstalk -- did you ever wonder what happened to the cow? or the beans from the beanstalk? What did Jack do later in life? Find out in Jack and the Beanstalk, the Whole Story, Plus the Sequel...
The Adventures of Jack and Jill -- a hilarious blend of a lot of familiar rhymes. Pappa Gander gets things a bit mixed up here, and ends up with a second version of Jack and the Beanstalk, but with the Seven Dwarves instead of the giant...
Snow White, from an alternative universe where things happen a bit differently...
Robby, the author behind Pappa Gander says: "My poetic inspirations were Roald Dahl, Shel Silverstien and Ogden Nash. Also included are some of my cartoons, largly influenced by Gary Larson (Far Side). Some of the rhymes were done strictly because I found words that rhyme in an amusing way (amusing to me, anyway)."
---
$2.99 for Kindle Version.
$2.99 for All Other eBook Formats (Smashwords Edition)
$5.35 in Print Version at Amazon.com


Reviews from the Kindle Page:
"Loved the way the beanstalk story was expanded. Everyone involved had adventures of their own after the giant fell, including Jack. Very well written and very entertaining"
"...This was a very creative book full of fairy tales. I loved how everybody had different personalities. It was a really great book."
"...this was a nice quick read over lunch and I am looking forward to reading more from this guy!"
"Robby Charters' Pappa Gander is a great read for kids, but I suspect some of us oldsters, those of us who grew up with Mother Goose, will enjoy it even more for the memories it brings back. ..."